Integral organisation of weddings
This service is the most comprehensive as we start from scratch with you. This service includes advice, creation of the entire decoration project and, of course, coordination of the wedding day.
how to organise a wedding?
We take care of everything
We start with the search for the space that best suits your needs. We will continue with the search for the suppliers that best suit your style and budget; advice, review of contracts, technical visits… 
wedding planner for cool couples
I want an integral wedding
We will accompany you all along the way: search for space, suppliers, technical visits, preparation schedule, decoration and coordination.
The first thing we will do is create a roadmap with a list of tasks and the approximate dates on which we will do these tasks, always adjusted to your needs. From there… everything else!
If you want something less complete you can take a look at our decoration service. If you just need a hand with the B-day, the coordination service is perfect.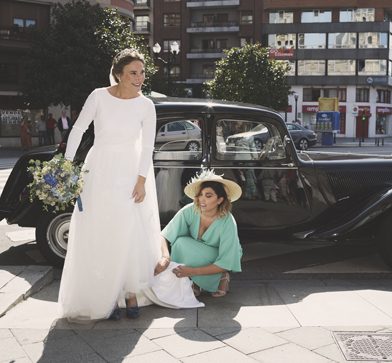 We want to accompany you throughout the organisation of your wedding, to see how you enjoy every part of the process.
Having help from the beginning will ensure that the result will be SPECTACULAR.
Destination wedding spain
If you already have some suppliers but you want to give that special touch to the space… Don't settle for a standard decoration if what you want is to make a difference, that the decoration speaks of you and your history.
Organising a wedding in Spain
We take your party all over the world
Are you from abroad and want to celebrate your wedding in style in our country? We will be delighted to help you make your dream come true.
Whether it's because your family lives here, or you are in love with all the unique places that Spain has to offer? We will take care of everything!
The wedding decorations were amazing and eye catching. She coordinated everything to perfection. I couldn't be happier, Aldara is a sure hit!
Exceptional treatment and professionalism of Aldara and her team. She saved me more than one headache. I highly recommend In my teepee.
He understood all our ideas perfectly. When covid started, he supported us in all the decisions we made. He encouraged us until the end even if it meant making changes from one day to the next. As soon as we saw that the wedding was going smoothly... we relaxed and enjoyed ourselves. And we have her to thank for all this. Thank you a thousand times over.
We knew that a wedding planner was an investment, we wanted to make things as uncomplicated as possible and above all we wanted to enjoy the process. Honestly, the wedding would have been nothing like it was without her.
She always has everything under control and organises everything to perfection, at my wedding everything was perfect and it was thanks to her. I recommend her 100%, thank you for everything, beautiful!
Integral organisation of weddings
Say goodbye to all worries with our comprehensive organisation service.